Health Beats Better
EQUIMETRE VET collects ECG at full speed with medical accuracy and simultaneously records cardiac, locomotion and GPS data from each training.
A TOOL DEDICATED TO

  EQUINE HEALTH 

 MANAGEMENT
Collecting ECG at full speed and simultaneously recording cardiac, locomotor and GPS data.
SUPPORT DIAGNOSIS

Analyse ECGs collected automatically during exercise
Study cardiac variability


Examine data simultaneously
PATHOLOGIES DETECTION

Identify arrhythmias and cardiac pathologies


Detect pain and determine its origin

Evaluate effort tests
PREVENTION AND MONITORING

Investigate underperformance


Compare exams between them

Propose new telemedicine services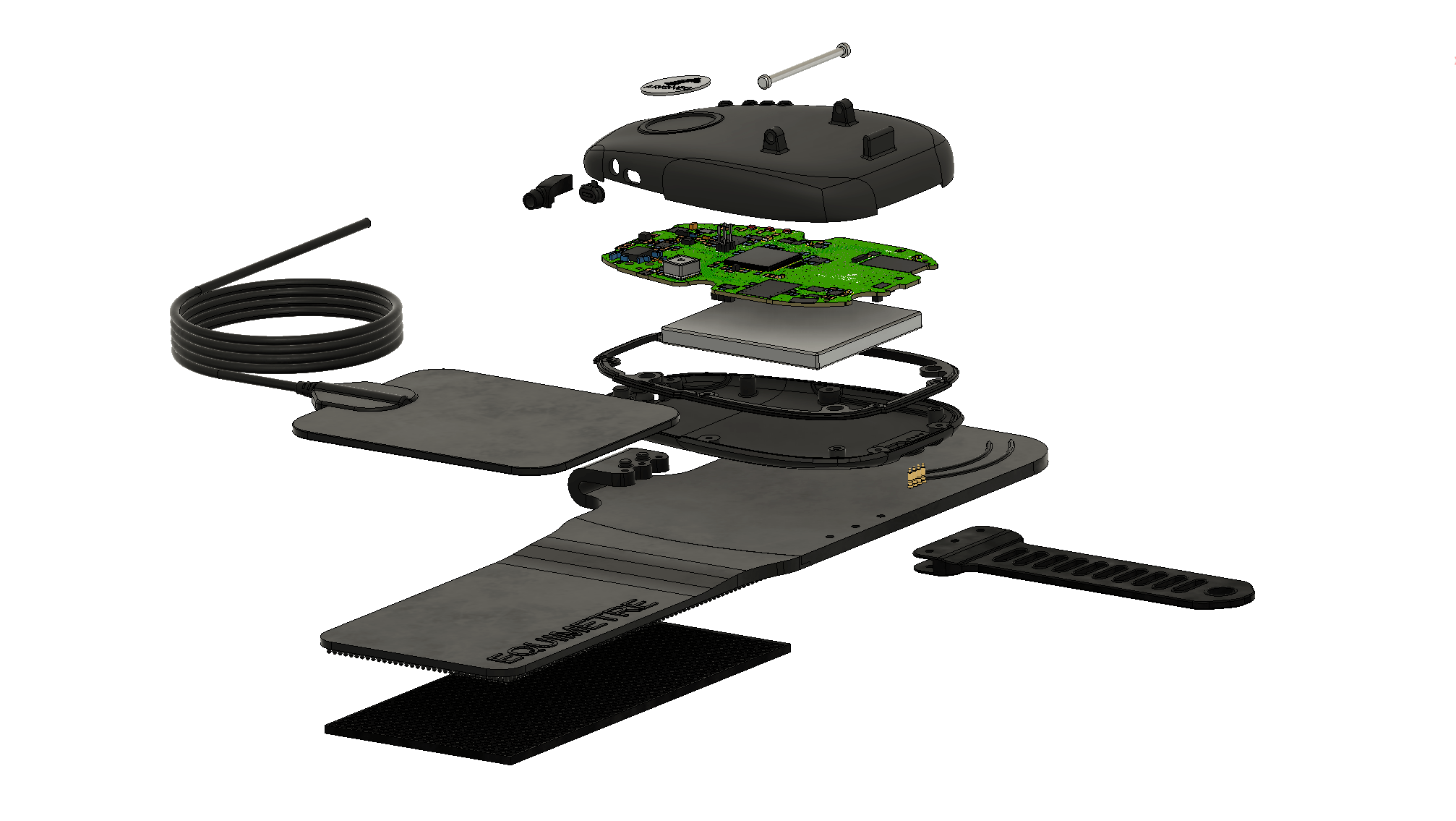 EQUIMETRE establishes itself as a partner of horse health and performance. The quality of the measurements is such that they can be used to establish a diagnosis of cardiac arrhythmia based on the recorded electrocardiogram.
AN

 

ALL-IN-ONE

 TOOL
Designed with patented electrodes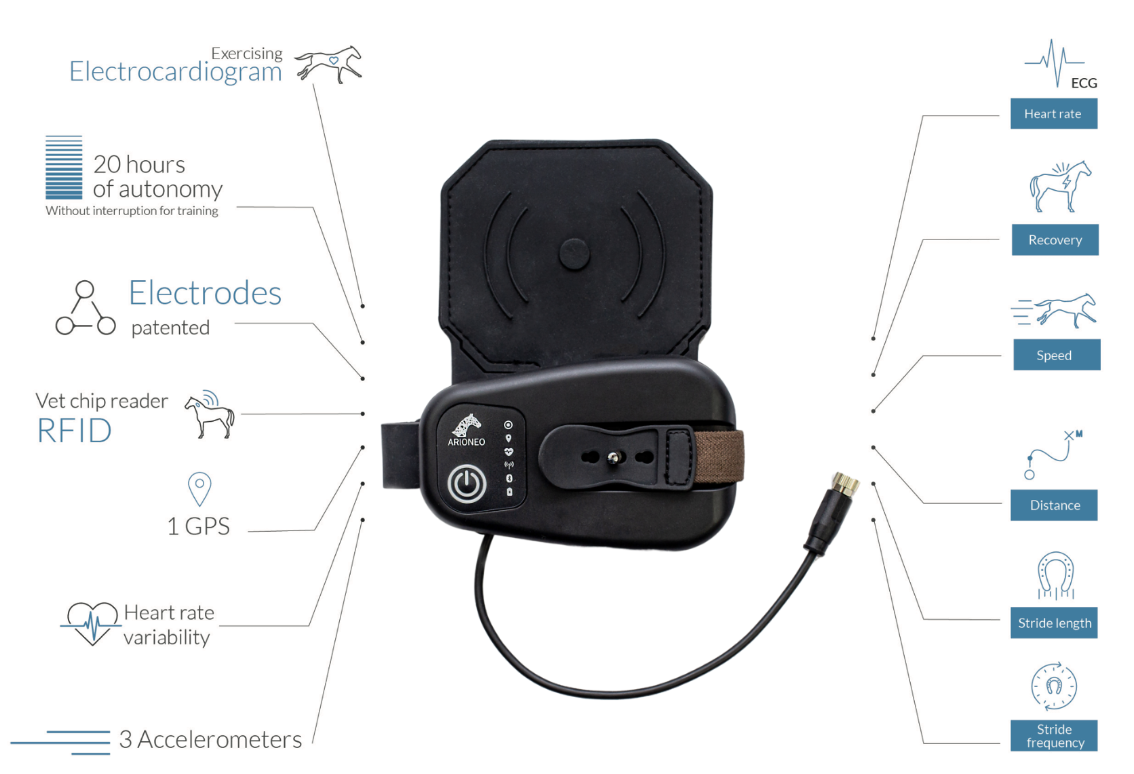 EQUIMETRE VET is designed for daily use on all types of horses:
installation in 30 seconds and automatic detection of the chip to facilitate data collection and veterinarians' daily work.
ANALYSE YOUR DATA WHEREVER YOU ARE
VETERINARY ANALYSIS PLATFORM

INTUITIVE AND USER-CENTRIC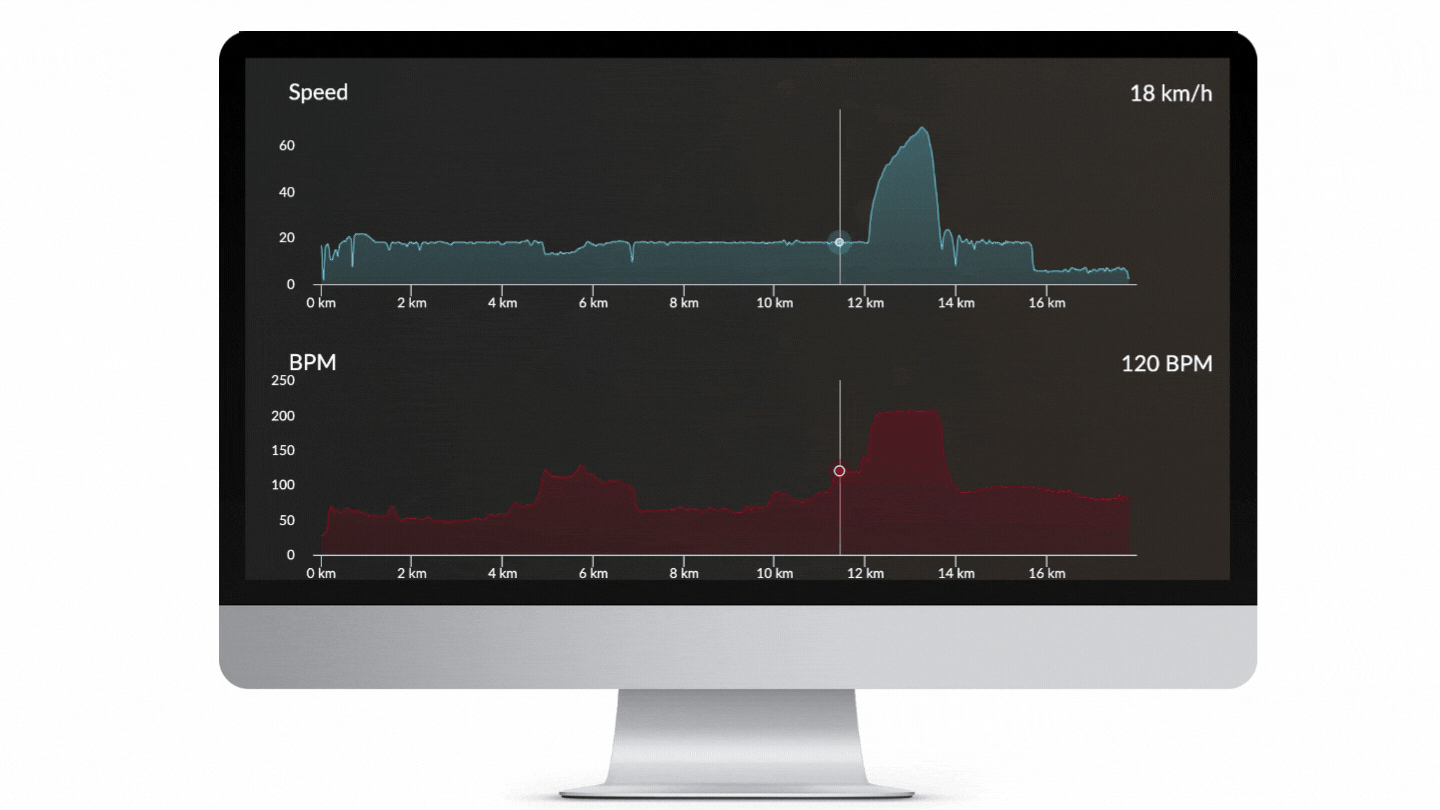 SAVE TIME

Data gathered in a single location.

Unlimited and secure data storage.
Unlimited platform customisation.

ANALYSE ACCURATELY

Over 300 calculated parameters.

Review of work sessions.

Data evolution over time.

COMMUNICATE EASILY

Interactive graphic interface.

PDF reports.


Mirror accounts.
ECG LIVE APPLICATION

MOBILE AND INTERACTIVE

Real time access to the ECG

Adjustable scrolling speed.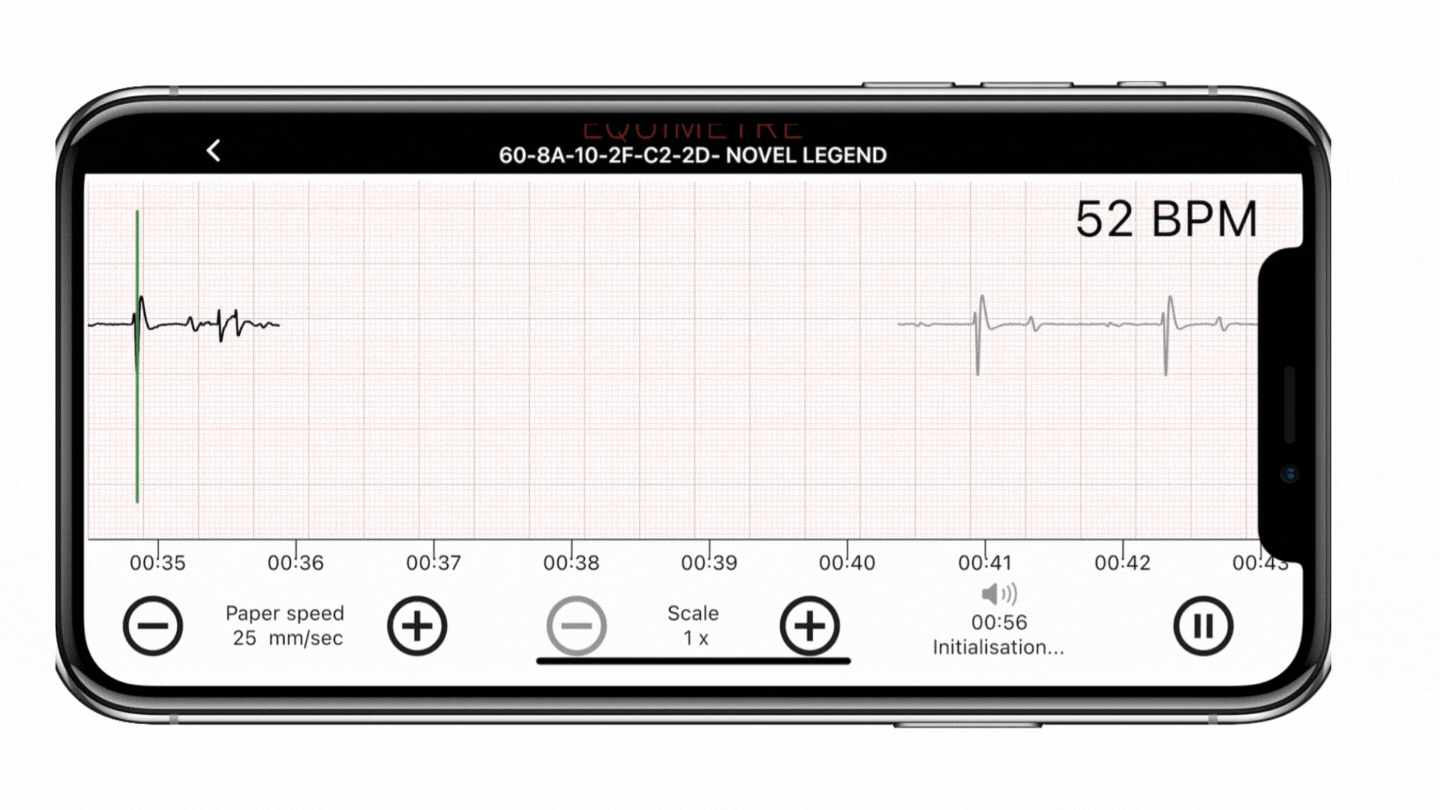 ORIENT YOUR DIAGNOSIS
WITH CONCRETE INDICATORS
A  SCIENTIFICALLY  VALIDATED TECHNOLOGY 
HEART RATE AND HEART RATE VARIABILITY
This validation study of heart rate and heart rate variability measurement by EQUIMETRE was conducted in comparison with Télévet (Gold Standard). At the end of the study, we can affirm that the EQUIMETRE sensor is scientifically validated for heart rate and heart rate variability monitoring in racehorses during high-intensity effort.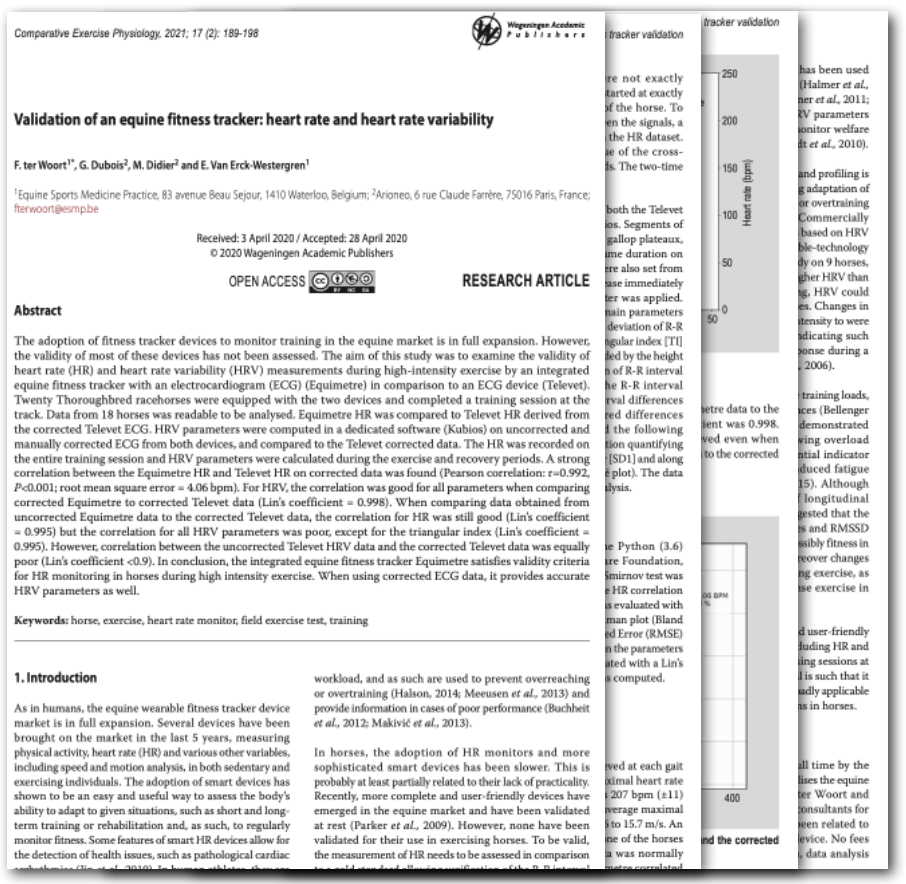 ECG QUALITY AND ARRHYTHMIA DETECTION
Cardiac arrhythmias in horses during exercise are of major interest, both in terms of what is considered normal and in terms of their potential relationship with underperformance and cardiac sudden death. At the end of the study, carried out in comparison with Télévet, it is possible to affirm that the EQUIMETRE system provides a reliable ECG for the detection of arrhythmias during exercise.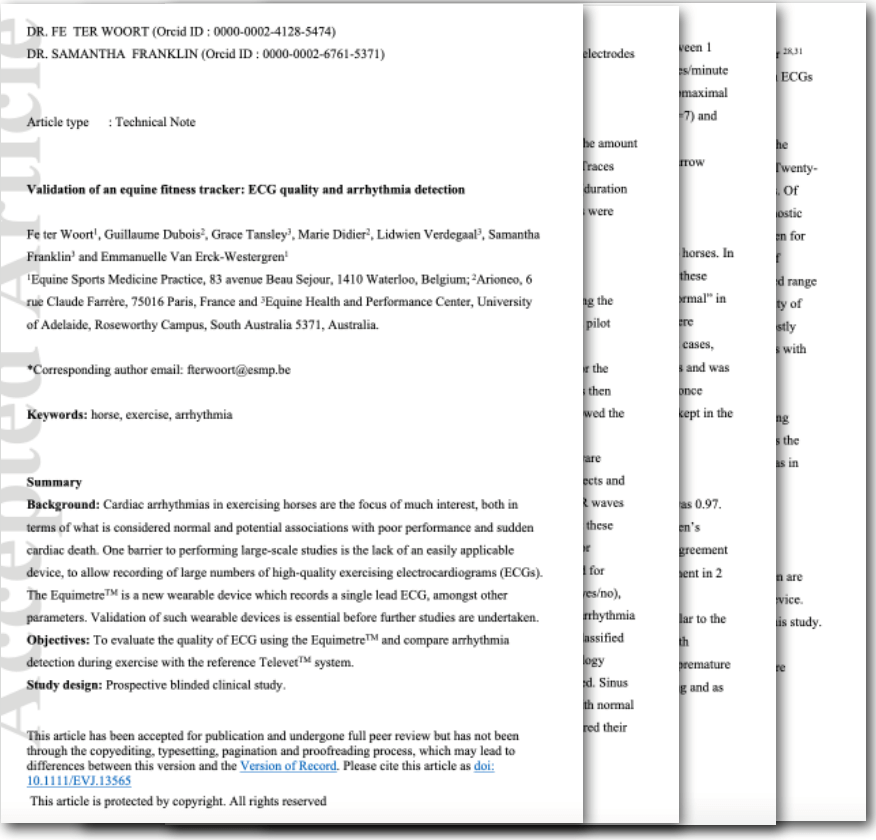 Different fixture systems to fit all of gear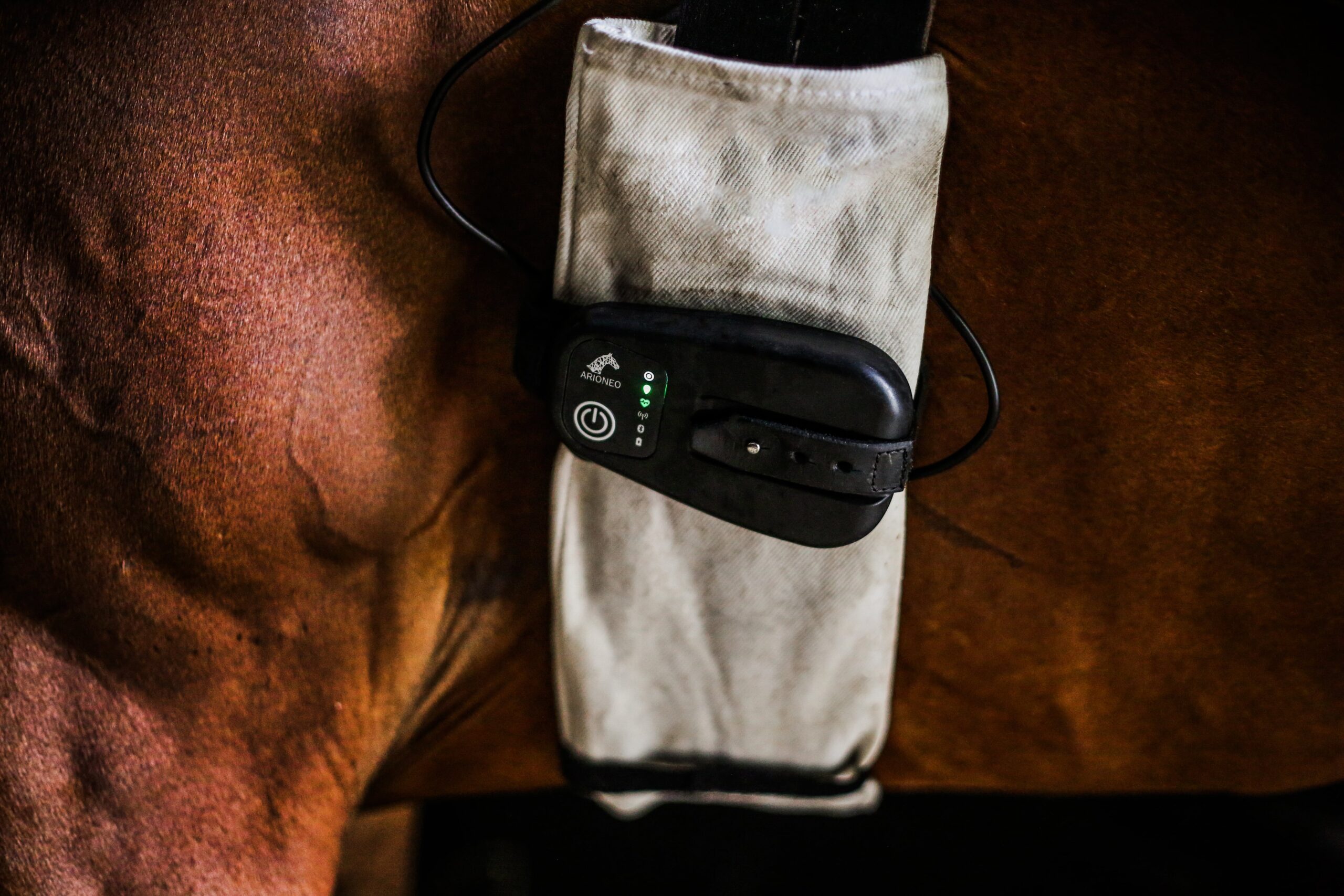 Girth
Advised for Flat trainers
Fixture around the girth with a saddle pad electrode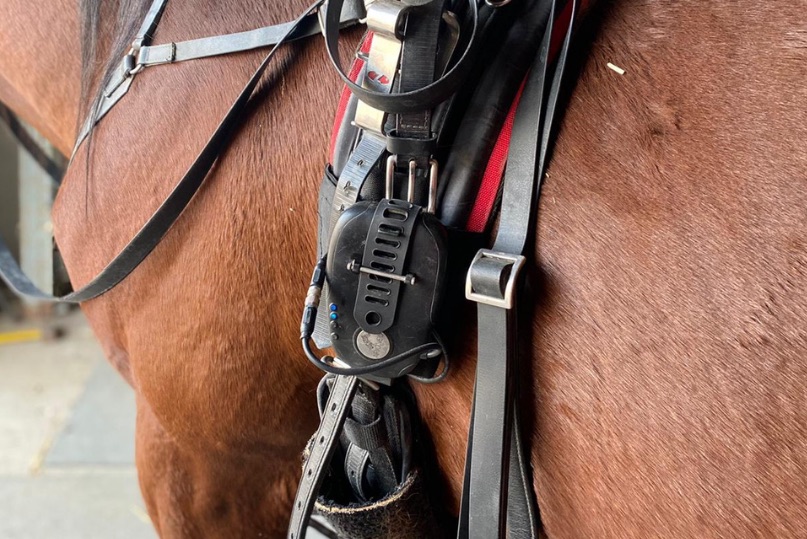 Harness
Advised for Harness trainers
Electrode girth equipped with a pocket to hold the sensor around the harness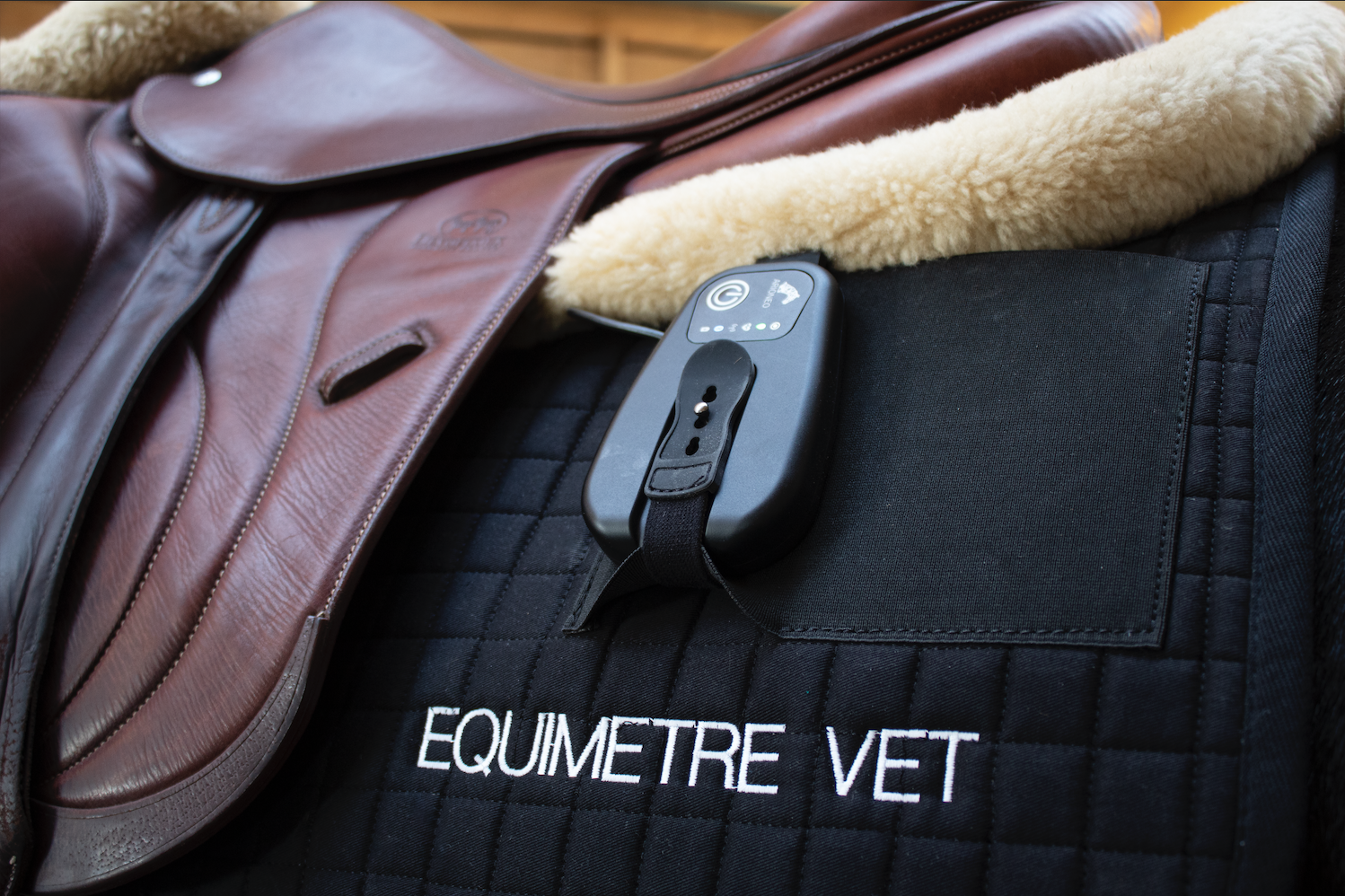 Saddle pad
Advised for sport horses, pre trainers,
and jump horses
Electrode girth under the saddle pad connected to the sensor inside a pocket
Equimetre is the only system that can be put on all kind of sports horses to evaluate their performance, monitor the heart rate, and systematically collect the ECG even at full speed. The great advantage is that you can let trainers and riders train normally, even without the presence of a vet, and still have their ECG to analyse remotely.
A

 

PREMIUM

 

SERVICE TO OPTIMIZE DATA ANALYSIS
The relationship we build with our clients is first and foremost a matter of building trust. We take the time to meet each person individually, in order to understand the specific needs of each customer. This customer experience is what makes Arioneo's service unique.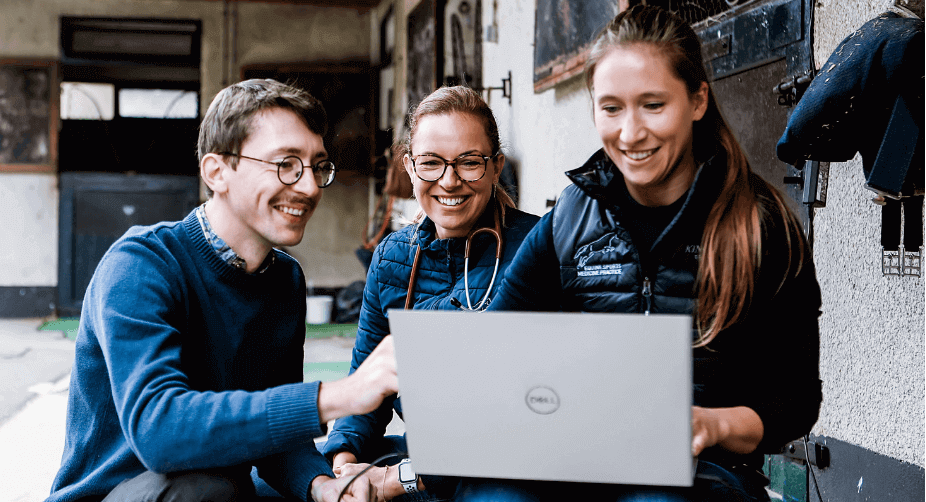 Onboarding sessions and technical assistance to set you up with the product and the application.
Dedicated contact for data interpretation
Contact your Data Success Manager to book data coaching sessions, via Whatsapp or emails. Ask for data analysis reports.
24/7 support team to provide you with personalised assistance and guidance.
Contact us for any information request concerning our product and offers EQUIMETRE VET.
> Product and application demonstration
> Examples of concrete cases
> Offers & prices
A member of our team will contact you as soon as possible.